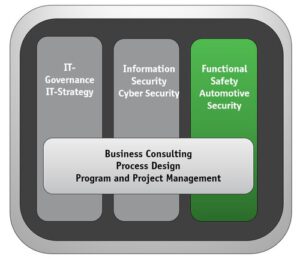 Why do you need functional safety?
In recent years, the complexity in vehicles has steadily increased due to novel electronic functions and systems. Many of these functions can be found in safety-relevant areas such as steering or braking. Mistakes here can lead to serious, life-threatening consequences when driving.
Furthermore, functional safety is relevant for the approval of cars, motorcycles and, from ISO 26262 Edition 2, also for trucks and buses.
How does functional safety become a competitive advantage?
To prevent or at least minimize the risk of health or even life-threatening effects due to malfunctions, the topic of functional safety according to ISO 26262 is increasingly in the focus in the automotive industry today. The aim is to improve the controllability when an error occurs. Companies that invest here not only control the risks of their systems, but also become a reliable partner for OEMs.
What can we do for you?
For optimal preparation on this topic, we offer support
in all areas of the safety lifecycle for each of the 10 parts of ISO 26262.
We advise you in the following areas:
Safety Management
Safety Assessments
Process design according to Automotive SPICE®
Preparation for audits
---
Our services in detail

---
Safety Management
Implementation of safety activities according to ISO 26262 from item definition to safety case
Moderation and documentation of hazard analyses
Implementation or moderation of safety analyses
Validation of security measures
Creation of functional and technical safety concepts
Safety assessments and audits
Accompaniment and support of all safety-related activities
Consulting on the planning and implementation of project management and supporting processes
Consulting and assessments according to Automotive SPiCE®
Functional safety in SW development
Creation of (safety) architectures and design
Implementation of tool classifications and qualifications according to ISO 26262
Support and advice in the to achieve a maturity level of Automotive SPiCE in ENG.4 – ENG.8
Creation of guidelines for the use of development tools
Supplier monitoring
Evaluation and implementation of safety assessments of the supplier
Evaluation of security concepts and plans
Evaluation of the ASIL decompositions of the suppliers
Review of security measures and analyses
ISO 26262 training
Preparation of training documents for basic and expert training
Planning and implementation of training courses (in-house and external)
Basics for managers and project managers
Specialization for Safety Experts/Managers, Quality Managers
Individual deepening of topics
---
Tell us about your safety-relevant components.
We will find the right solutions for you!

Your contact person:
Dr. Christian W. Probst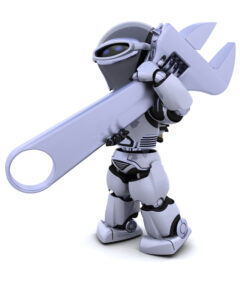 Mail: funktionalesicherheit@rmtp.de
Phone number: +49 30 6098 1892 0